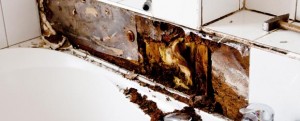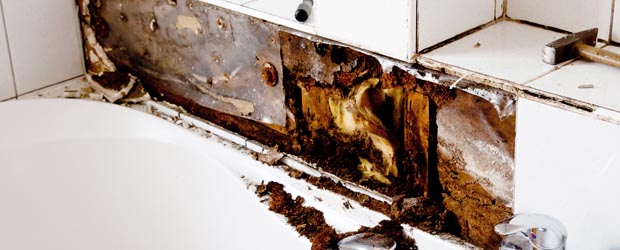 Are you located in the Milwaukee area and need a Mold Remediation Company?
Call Marathon Property Restoration Now We're Ready and Standing By!
888-633-4495
When you have an emergency, Marathon professionals are on site right away.
We pride ourselves on our prompt response time and service guarantee.
Marathon Property Restoration are your go-to local experts in Mold Damage Restoration and Removal and repairs.
Marathon professionals are trained and certified to the highest standards in the industry.
– Water Removal
– Fire Damage Restoration
– Mold Mitigation and Remediation
– Biohazard Remediation
– Disaster Clean Up Services
When water is on the move, timing is critical!
24-hour Emergency Disaster Clean Up.
Call Us Now – We're ready and standing by!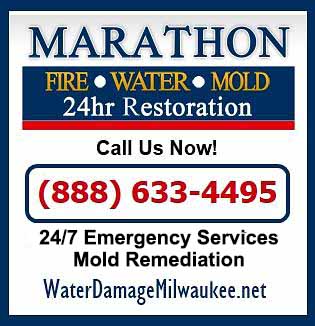 With over 30 years of experience in property mitigation and restoration, Marathon Property Restoration has earned our reputation as one of the best restoration companies in Wisconsin.
We do more than clean up after a property disaster.
In response to every emergency, we provide a combination of exceptional property mitigation services delivered with an equal degree of compassion.
We help rescue homes.
We put businesses back on their feet.
We help you get back to your life.
Trained and certified to the highest standards in the industry, Marathon professionals respond immediately – 24 hours a day, 7 days a week – to mitigate loss and meet every challenge with professionalism, reliability, compassion and respect.
Our recovery and restoration process is aimed at property and people.
Recognizing that water damage causes a devastating setback to families or businesses, we do whatever it takes to give you back that sense of security you're used to with minimal disruption.
We are a water damage repair company you can rely on to minimize the impact of flooding and water damage.
Marathon Property Restoration Experts offers the following services:
– Fire Damage Restoration
– Water Damage Restoration
– Flood Damage Restoration
– Mold Remediation
– Mold Inspector
– Mold Inspection And Testing
– Biohazard Cleanup
– Hoarding Cleanup
– Specialty Services
When you want the experienced experts at Marathon Property Restoration.
Call now for emergency service – every minute counts!
Don't wait … Call us now!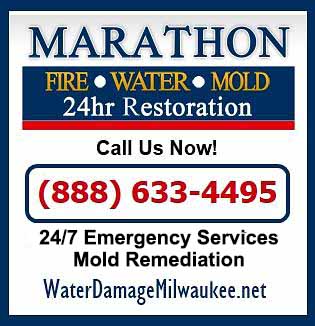 What cities and zip codes in and around Milwaukee, WI do we service?
Marathon Restoration Experts Provides local 24-Hour Disaster Emergency Response Services throughout the ENTIRE Milwaukee Area.
All property restoration companies require dedicated, hard-working, experienced crews.
We honor all of the amazingly talented men and women in our industry!
And we salute and thank you for visiting our website and taking the time to read this blog post!
As a courtesy and for fun and interest, we like to share various newsworthy items with our visitors that we hope you'll find useful and entertaining.
So please browse below and read through our selection of news articles, videos, and social buzz to get a look at other related news and topics surrounding our industry.
Enjoy and thanks again for visiting our site!
Mold Remediation in the News:
Tips for removing and preventing mold and mildew – Columbia Daily Tribune
http://news.google.com Sun, 28 Feb 2016 06:07:19 GMT
Tips for removing and preventing mold and mildewColumbia Daily TribuneMissouri saw abundant rainfall in 2015. That's often good news for crops, but it can be bad news for homes. Even if your home escaped serious flood damage, moisture seeping into yo …
Remove, prevent mold in flooded homes – Monroe News Star
http://news.google.com Fri, 18 Mar 2016 16:37:10 GMT
Monroe News StarRemove, prevent mold in flooded homesMonroe News StarReichel offers several tips prevent mold growth after flooding: – Remove wet carpeting and pads, as well as wet draperies and upholstery. – Cut into wallboard and remove all wet and …
Mold Remediation on Youtube:
Inspection Plus – Mold Remediation Part 1
Part one of our mold remediation project where we show you some of the tips and tricks of removing mold from your own home.
DIY Mold Remediation Explained
Mold remediation completed by complete amateur at hom. Process is doable for novice to intermediate skill level. Don't waste your money on a remediation company.
MOLD REMEDIATION VIDEO – Envirotech Call 1.800.724.2102 or www.naturallythebest.com
There are various ways to remediate Mold. Our specialist will create a custom treatment and explain all the process available for the remediation process. Call Today 1.800.724.2102 or www.naturallythebest.com